At the checkout line of the grocery store, I saw a picture on a cooking mag featuring coconut lime chicken and instantly thought "SUMMER!". Coconut trees, lime squeezed margaritas, and lots of sunshine – a perfect inspiration for a sweet summer dish.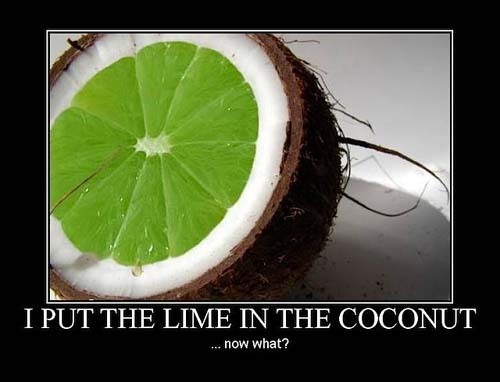 (HA! this was too funny not to share! )
This recipe is great for those of you gnawing at depressingly dry, boring skinless, boneless chicken breast b/c you are trying to be healthier. First off, CONGRATS on your dedication to your health! However, healthy does not have to mean boring and tasteless. This dish grabs all the flavor of the coconut while avoiding the high saturated fat content that is found in dishes like coconut-based curries where the chicken is swimming, albeit happily, in a pool of coconut milk.
In addition, this baking method that I learned from my friend Katherine helps keep the chicken moist – all you have to do is cook the chicken at a higher heat at first to help it "sear" the outside, and then lower the heat so the meat doesn't dry out.  Broiling the meat at the end also gives it the nice golden finish. Check it out!
Ingredients (about 5-6 servings)
3-4 pieces of chicken (I used 1 large breast & 2 thighs)
2 cloves garlic minced finely
zest of 1 lime
1.5 tsp cumin
1.5 tsp sea salt
1 tsp black pepper
1.5 tsp sugar
1 thai chili chopped up
juice of 2 limes
3/4 cups light coconut milk
Steps:
Prep the spices – zest the lime, mince the garlic, chop up the chili (careful of the heat!)
2. Place all the ingredients except the chicken, in a bowl and whisk to combine.
3. (Optional) slice the chicken into smaller pieces (those whole chicken breasts are waaay too ridiculously huge for me to eat in one sitting!)
4. Pour the marinade over the chicken and let sit for at least 1 hour
5. Heat the oven to 425 degrees.
6. Remove the chicken from marinade bowl and place in a foil lined/very lightly greased baking pan. Bake for 10 min. Reduce heat to 350 and bake another 15 min. Raise heat to broil, move chicken to top rack and broil for 5 min to brown the edges.
7. Remove from oven and let cool slightly before serving with a wedge of lime for extra lime punch!
Check out the video for the 6 minute recap and leave me a comment to let me know what you think!
Related Posts to Love: